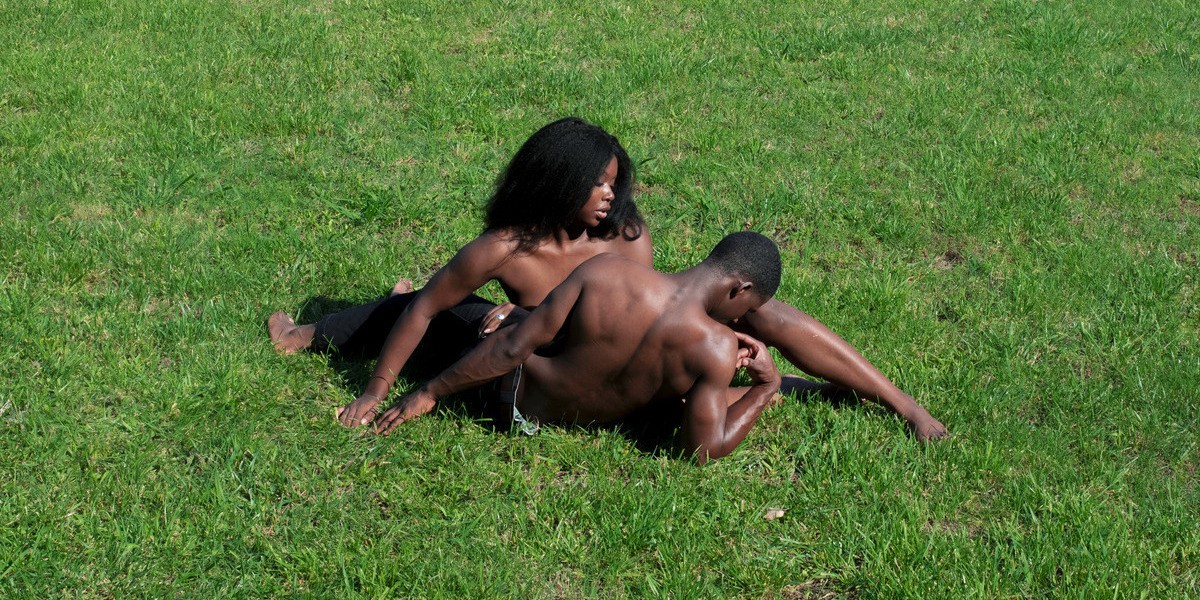 FOR LIFE
25.10.23 - 21.12.23
Faith Couch
The Naughton Gallery proudly presents FOR LIFE, a solo exhibition by American photographer Faith Couch (b. Durham, North Carolina, 1997). Couch's work focuses on accessing the memory landscape of Blackness through the folklore and magic that lives within memories and archives created before her own practice began. Synthesising both archival and contemporary imagery, Couch creates discussion surrounding the lineage of Black people being observed and depicted. She examines the Black body's place in contemporary photography, its ties to historical narratives of existence, and a new future imagined and created by Black people. Through collaboration with members of her community, Couch uses photography as a revolutionary tool to activate our collective memory landscape and reimagine how love and intimacy exist in space.
Couch's current body of work is inspired by two of her earlier photographic works: My Love and I (2018-19) and Then I remembered the most radical thing Black people can do – continue to love each other (2020). These self-portraits exist in the interstitial spaces of what is very real to her: two Black people in love existing in space, being absolutely free of responsibility, need, or want. The artist's preoccupation with love – in all its forms – has led her to pursue the creation of her own cinematic universe using the medium of photography.
Couch explores the theme of intimacy through familial relationships, romantic relationships, and friendships between Black people. Through this exploration she is interested in creating a world that is free of trauma, using familiar gestures, indexes, and symbolism. So many spaces in the physical and visual worlds are informed by trauma and harm to people. The aim of this project is to create new narratives that highlight Black folklore, Black memory landscapes, and their intersection. Like her foremothers, including Carrie Mae Weems, bell hooks, and Thelma Golden, Couch's work evokes the beauty of the mundane, creating work that is a visual culmination of gesture, index, Black culture, and being. This project introduces the viewer to the infinite possibilities of intimacy – challenging people to conceptualise meanings of love through both romantic and non-romantic iterations.
Through concentrated research on films as a primary source for learning about culture, gestures, and ideology, Couch creates images that look as if they were film stills. In these photographs, the observation of familial, agape, and romantic love takes place in different spaces, ranging from a movie theatre and a dining room to bathrooms, parks, and restaurants. The magic is activated in these mundane spaces because of who occupies them and how they occupy them.
ABOUT THE ARTIST
Faith Couch received her BFA in Photography from Maryland Institute College of Art in 2019 and she has exhibited her work internationally at venues including the New Image Art Gallery, Los Angeles, the International Center of Photography, New York, the Nasher Museum at Duke University, North Carolina, the African American Museum, Philadelphia, and the Aperture Foundation, New York. Couch also works editorially, showcasing photographs in the Wall Street Journal, the New York Times, and more. Couch is a Forbes magazine '30 under 30 in Art and Style' honouree, and previously exhibited at the Naughton Gallery in the group shows Lemonade Stand (2020) and Blue Smoke (2022).
Related Events
OPENING NIGHT
WED 25 OCT 2023, 6-8PM
With live music from Marion Hawkes and a reading table courtesy of IRIS Magazines, join us for the opening reception of FOR LIFE. Free admission. Refreshments provided. All welcome.
---
ART IN THE A.M. WITH FAITH COUCH
THU 26 OCT 2023, 10-11AM
For the next in our series of morning talks we're joined by artist, Faith Couch, in conversation with the Naughton Gallery team. Attendance is free and refreshments are provided.