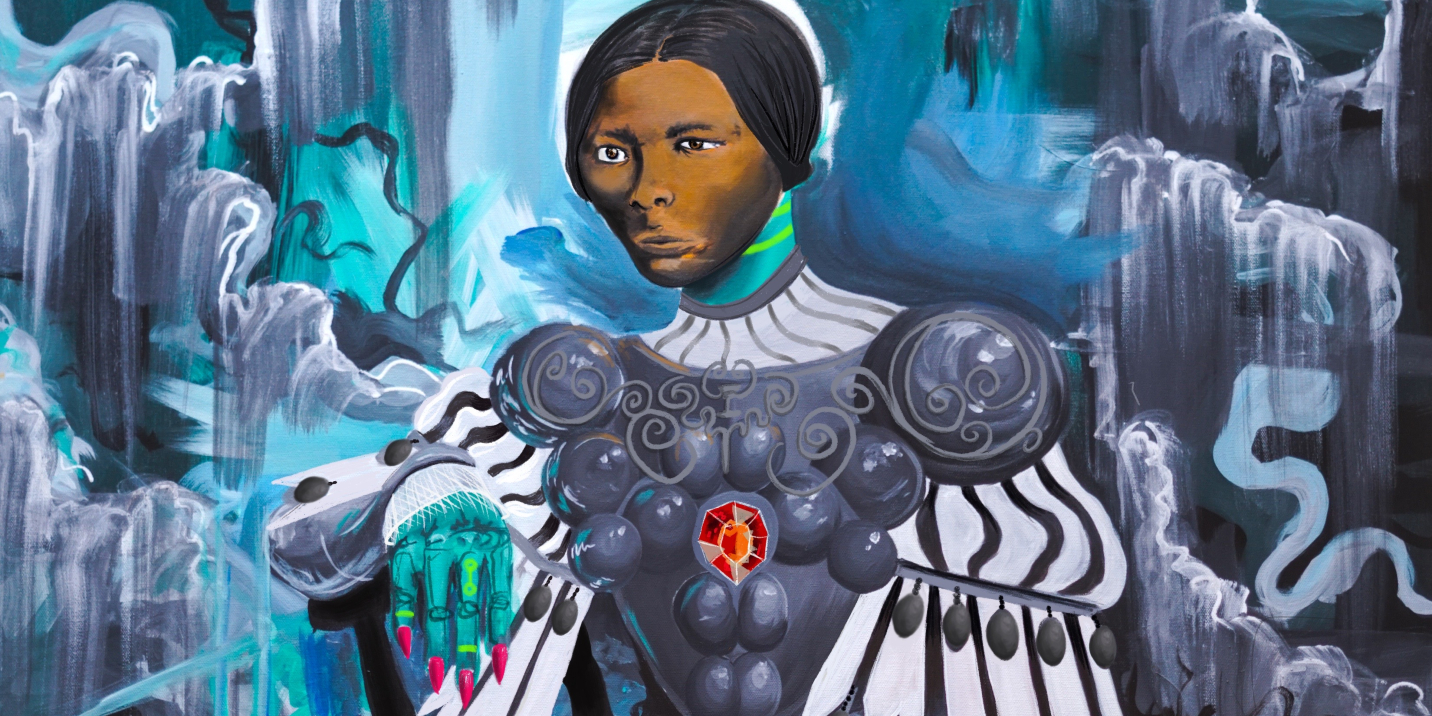 SORRY, NEITHER
25.05.21 - 11.07.21
Peter Bagge / Black Corpus: Ayodamola Tanimowo Okunseinde, Nicole Lloyd, Jeharrah Pearl / Adebukola Bodunrin / Ezra Claytan Daniels / Ebony Flowers / Katia Herrera / Charlot Kristensen / Gianni Lee / Rickii Ly / Luke Nugent & Melissa Simon-Hartman / Rafa Orrico Díez / Ben Passmore / Alexis Peskine / Benji Reid / Bobby Rogers / Andrew White / Alisha B. Wormsley
Taking its title from Star Trek's Lieutenant Nyota Uhura's response to being referred to as a 'fair maiden', Sorry, Neither is an exploration of Afrofuturism and Black futurity within contemporary art and pop culture.
The term 'Afrofuturism' refers to a cultural movement that uses the frame of science fiction and fantasy to reimagine the history of the African diaspora and to invoke a vision of a technically-advanced and generally hopeful future in which Black people thrive. We are asked to consider how Blackness might exist without the burden of racism, oppression, and stereotypes ever-present in Western cultures.
In the reimagining and repurposing of the fraught past, present, and future of the transnational Black experience, Afrofuturism has been expressed through art, cinema, literature, music, fashion, and beyond. With its known origins dating as far back as the writings of American abolitionist Frederick Douglass, sociologist W.E.B. DuBois, and folklorist Zora Neale Hurston, the genre has gained significant momentum since the 1950s.
Afrofuturist themes can be found in the speculative fiction of writers including Octavia Butler, Samuel R. Delany, and Eve L. Ewing, the music of Sun Ra, P-Funk, and Missy Elliott, and the visual art of Basquiat and Rammellzee, amongst others. In recent years, themes and aesthetics relating to Black futurity have made a resurgence in popular culture, with notable examples including the music of Beyoncé and Janelle Monáe, and films such as Jordan Peele's Get Out (2017) and Marvel's Black Panther (2018).
In Sorry, Neither, we invite audiences to explore this fascinating intersection between Black culture, technology, liberation, mysticism, and the imagination. Featuring a range of visual artists based across the globe, the exhibition celebrates Black culture – yesterday, today, and tomorrow – whilst also raising urgent questions about systemic racism in contemporary society. From a reimagining of abolitionist Harriet Tubman as an Afrofuturist knight (Gianni Lee) and parody advertisements for Black hair products (Ebony Flowers) to the story of the sole crew member of a fictional Nigerian space station (Adebukola Bodunrin and Ezra Claytan Daniels), Sorry, Neither offers a powerful and unapologetic perspective on Black futurity.
The exhibition is accompanied by a digital project, Today Is Yesterday's Tomorrow, which explores these themes more widely throughout literature, music, film and television, running across the Naughton Gallery's social media channels.
Image: Gianni Lee, Change That Man's Heart or Kill Him (2019).
Related Events