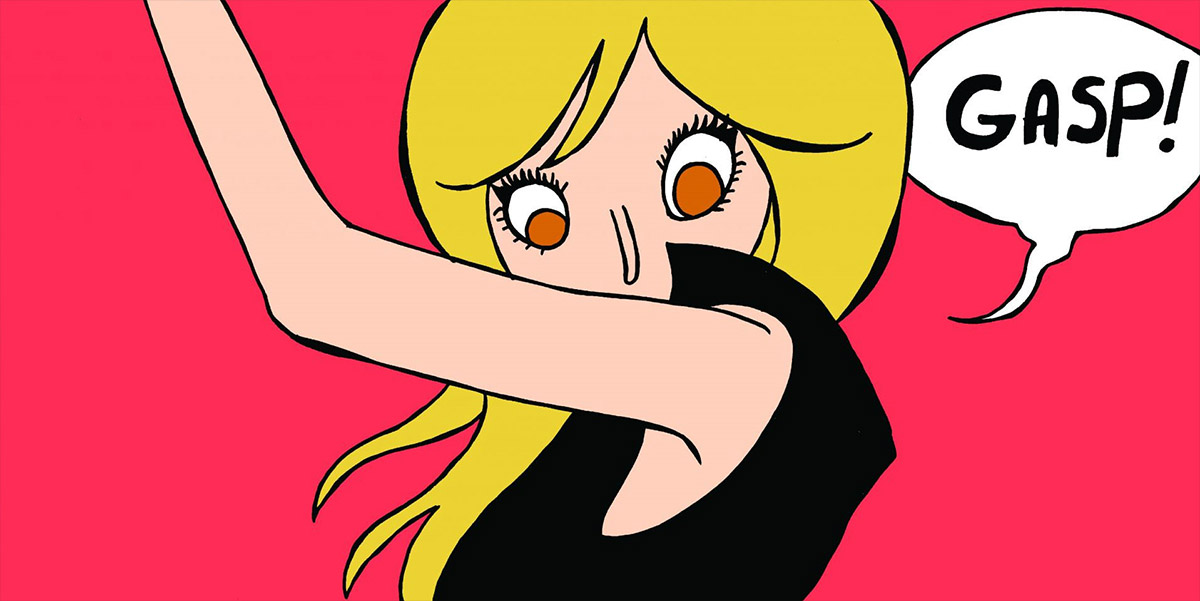 SKELLYWORLD
08.08.19 - 06.10.19
Katie Skelly
"Skelly's work is an absolute ownership of fantasy – she makes what she wants to see, striking from the medium's fundamental power." – Nate Powell
The Naughton Gallery invites audiences to dive into Skellyworld, journeying through the comics of Brooklyn-based cartoonist Katie Skelly (b. 1985, Bethlehem, Pennsylvania, USA). Skelly is one of the most exciting names in contemporary comics, with this exhibition giving greater insight into her work and artistic process. Featuring original drawings from all of her major published works – including Nurse Nurse (2012), Operation Margarine (2014), My Pretty Vampire (2017), The Agency (2018), and Maids (2020) – Skellyworld also features paintings, sketchbooks, merchandise, video projects, and Bad Girl Tarot, a 78-card tarot deck fully designed and illustrated by the artist.
Inspired by gekiga, giallo, bande dessinée, science fiction comics, and B movies from the '60s and '70s, Skelly's work examines exploitation genres for transgressive elements. Through her female protagonists, Skelly normalises all manner of female sensuality, encouraging confidence, sense of self, or the power to erase one's self and become an agent, an alias, or a woman on the run.
Skelly was awarded the Cartoon Crossroads Columbus Emerging Artist Award in 2015, and is a frequent contributor to The Comics Journal. She previously collaborated with the Naughton Gallery in the group exhibitions Speculative Skins and Ready? OK! (both 2018), in addition to designing two film posters for the gallery's SCREEN/PRINT series; Valley of the Dolls (screened at SOHO20, Brooklyn, 2016) and I, Tonya (screened at the Queen's Film Theatre, Belfast, 2018).
This is the first solo exhibition of Skelly's work to be seen anywhere in the world, so if you're ready for planet-hopping nurses, lustful vampires, Bardot-esque blondes, murderous French maids, and sexy secret agents, welcome to Skellyworld.
Related Events
EXHIBITION OPENING
Thu 8 AUG 2019, 5:30-8pm
With Marion Hawkes on the decks, join us for an evening of wine and art. Enjoy being amongst the first to see SKELLYWORLD. Entry is free and refreshments provided, all are welcome.
---
Art in the A.M.
Friday 9 August 2019, 9:30-10:30am
Bullitt Hotel
For the next in our series of morning talks we're joined by artist Katie Skelly in conversation with the Naughton Gallery team. Attendance is free and refreshments are provided. Please email art@qub.ac.uk to confirm your attendance.