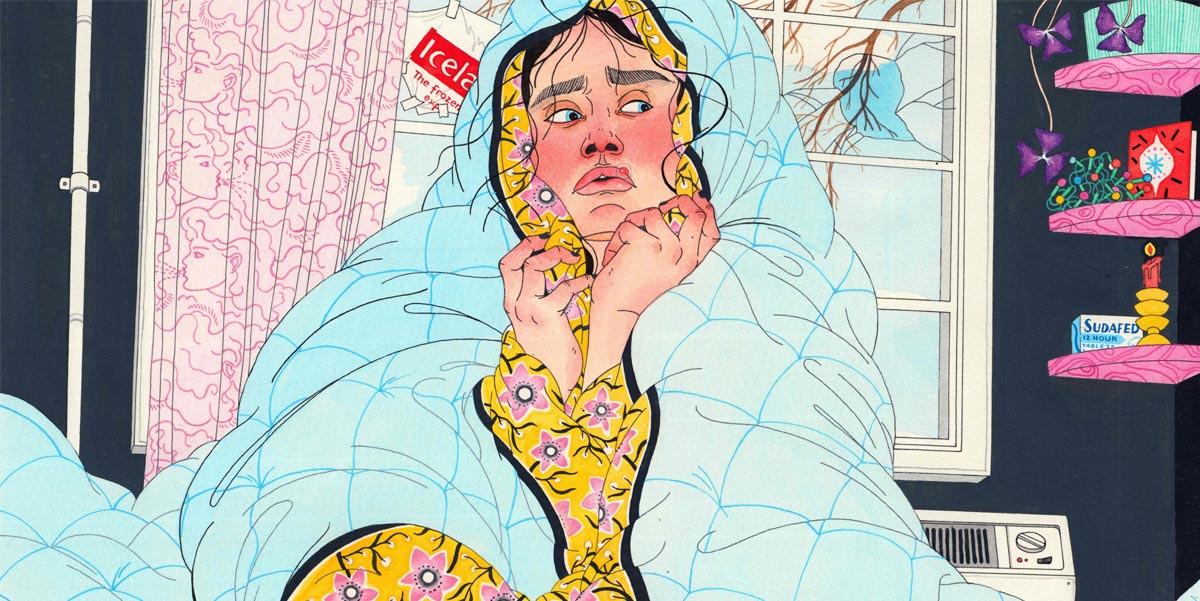 NATURA NATURANS
05.12.19 - 02.02.20
Laura Callaghan
The Naughton Gallery proudly presents Natura Naturans, a solo exhibition by Irish artist Laura Callaghan. A phrase coined in the Middle Ages, Natura Naturans translates to 'nature naturing' or, more loosely, 'nature doing what nature does'. The notion that nature will take care of itself has long been a soothing mantra and a way to understand our place in the world, but many of our beliefs about the stability of nature have been upended in recent times. This collection of new work offers a playful examination of how we interact with nature; the chaos and havoc humans inflict on the ecosystem, how nature in turn betrays us, and our own inherent human nature.

The exhibited works cast a humorous look at the human species in its natural habitat, in addition to exploring the increasingly urgent themes of climate change and our impending extinction. Decorated vessels illustrate a life cycle, while life-size figures representing the seasons stalk through the space. Hanging tapestries echo craft popularised during the medieval period, but they draw from contemporary scenes. Each piece is crammed with detail and layered with eye-popping colour and textures, reminiscent of the natural world that surrounds us. Callaghan has also played with larger formats for this exhibition, encouraging the viewer to examine details of each piece and create their own narrative within the work.

The exhibition also includes work from Callaghan's Panophobia series. Taking its title from a much-disputed phobia which translates to 'a vague and persistent dread of some unknown evil', this series reflects a society caught in the chokehold of fear, where panic about an increasingly unstable world rules our lives and fills our TV screens, both paralysing us and motivating us to change. Anxieties about surveillance, the housing crisis, and job security come to life on the page in an unexpected, tongue in cheek way. A lone figure, twisted like a pretzel, struggles to fit inside her minute studio apartment, whilst another performs a ritual with a circle of salt to protect herself from the increasing chaos of the outside world.

Callaghan, originally from Dundalk, Co. Louth, spent time living in London before relocating to Belfast in 2019. Her work is largely hand-painted using watercolour, gouache, and isograph pen, depicting women in colourful, maximalist environments. Part fashion illustration, part satire, Callaghan's images are ostensibly bright and beautiful, but simultaneously cultivate a sense of unease and humour. As well as undertaking work for clients such as The New Yorker, Nike, Samsung, and The Body Shop, Callaghan regularly exhibits personal work and self-publishes an annual zine, Fancy. This exhibitions forms part of the programme of the Northern Ireland Human Rights Festival.
Related Events
EXHIBITION OPENING
Thu 5 DEC 2019, 5:30-8pm
With Marion Hawkes on the decks, join us for an evening of wine and art. Enjoy being amongst the first to see NATURA NATURANS. Entry is free and refreshments provided, all are welcome.
---
ART IN THE A.M.
Fri 6 December 2019, 9:30-10:30am
Root and Branch
For the next in our series of morning talks we're joined by artist Laura Callaghan in conversation with the Naughton Gallery team. Attendance is free and refreshments are provided. Please email art@qub.ac.uk to confirm your attendance.