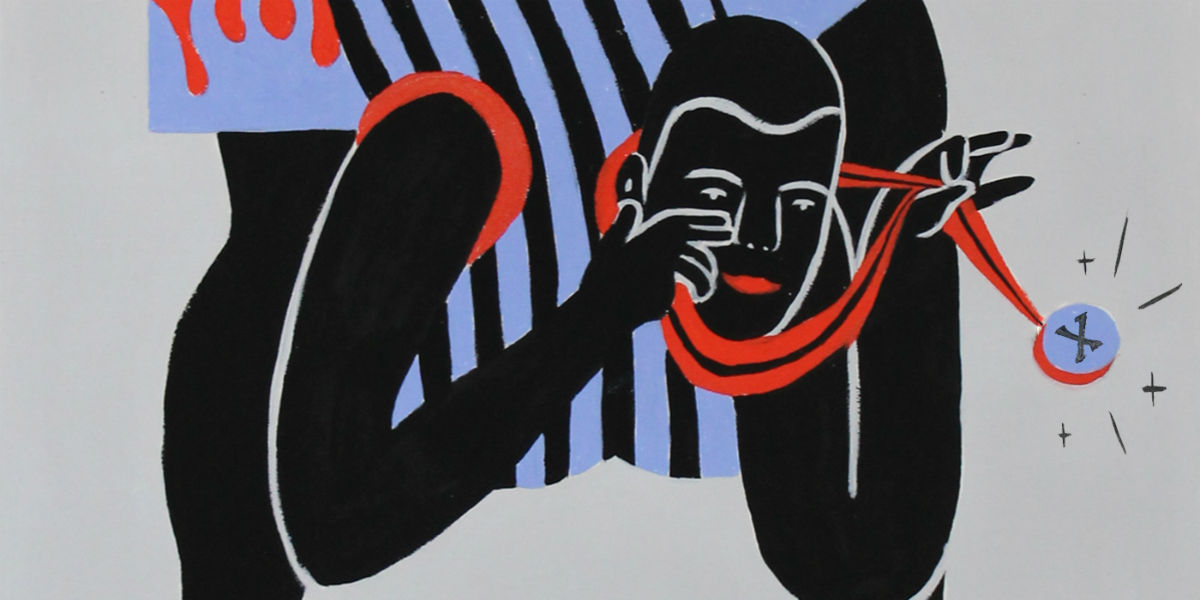 HERO WORSHIP
16.08.18 - 30.09.18
Sean O'Connor
The Naughton Gallery is delighted to present a solo exhibition of new work by Brooklyn-based artist Sean O'Connor, winner of the gallery's 2017 Open Call.

Primarily working as a painter, O'Connor's work explores themes around masculinity, representations of male beauty throughout history, and the archetypes we associate with the male gender; strength, athleticism and stoicism. Adapting a Classical Greco-Roman aesthetic to incorporate emojis, basketball, Yeezy sneakers, and Louis Vuitton apparel, O'Connor's paintings are humorous, unexpected, and thought-provoking, raising important questions about the constructed identity of man. O'Connor has created a playfully anachronistic world in which Hercules is a frat boy and Ronaldo is a demi-god, where muscled bodies flex, flaunt, and flirt with each other and the viewer.

O'Connor holds an MFA from Parsons School of Design, New York. He has previously exhibited at galleries including Room 68 (Provincetown, MA), How's Howard (Boston, MA), and the Leslie Lohman Museum of Gay and Lesbian Art (New York, NY). His work has also been featured in publications such as The Advocate, GAYLETTER, and Hello Mr.

Special thanks to our international panel of Open Call jurors, who assisted in the selection of O'Connor's work: Colin Davidson, Manuela Pacella, Matthew Poole, and Rachel Steinberg.
EXHIBITION OPENING
Thurs 16 Aug 2018, 6-8pm
With DJ Girls on the decks, join us for an evening of wine and art. Enjoying being amongst the first to see HERO WORSHIP. This event is free and all are welcome.
LATE NIGHT ART
Thurs 06 Sept 2018, 6-8pm
Enjoy Hero Worship after hours as part of Belfast's monthly Late Night Art.
Related Events
SCREEN/PRINT
ROMEO + JULIET
WED 19 SEPT 2018, 6-8PM
The Naughton Gallery presents William Shakespeare's Romeo + Juliet (dir. Baz Luhrmann, 1996) as part of its SCREEN/PRINT series, which sees artists design new posters for films that have inspired or influenced their practices. Romeo + Juliet has been selected by HERO WORSHIP artist, Sean O'Connor. All attendees receive a free copy of O'Connor's poster. Purchase your tickets at Queen's Film Theatre to see Luhrmann's iconic film on the big screen.
---
Sean O'Connor was selected out of almost 150 entries as the winner of our 2017 Open Call. The gallery received solo exhibition proposals from international and local artists, choosing a shortlist of seven artists including O'Connor. Check out the announcement to learn more about the Open Call.