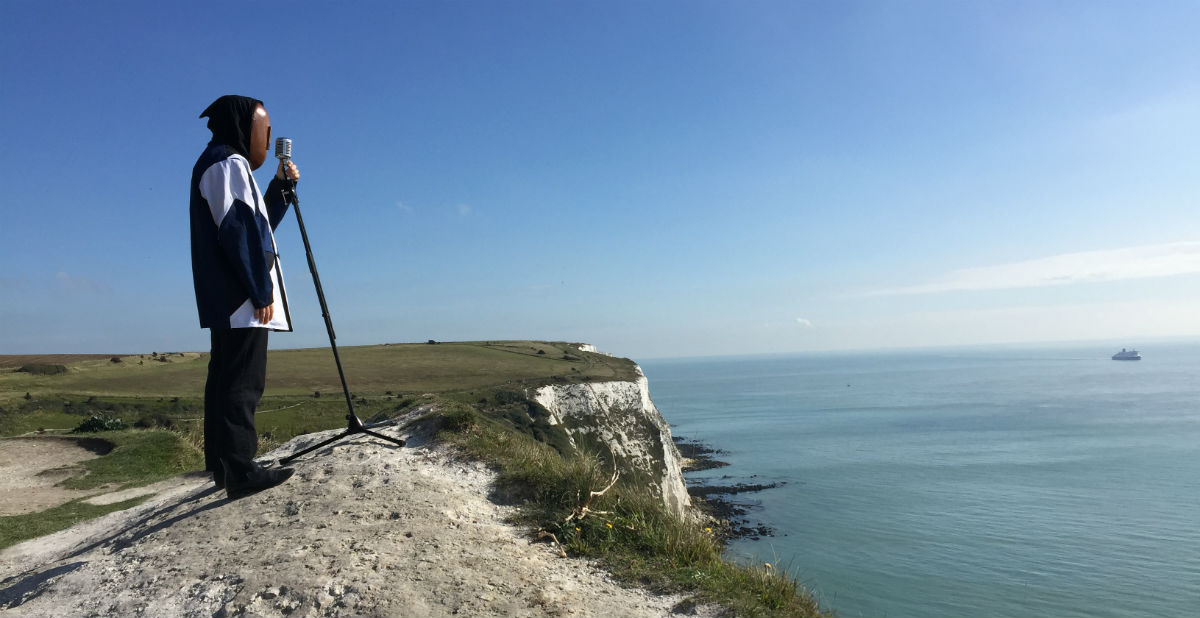 THE IMMIGRANTS
07.12.17 - 04.02.18
Pil & Galia Kollectiv
The Naughton Gallery presents The Immigrants, a solo exhibition of new work by Pil and Galia Kollectiv. Through a series of small actions undertaken by costumed performers in different locations across the UK, an installation of filmed vignettes posits the futility of the border as a means of demarcating boundaries of identity, power and resources in an age of global capital flows, migrant labour forces, and environmental destruction that does not stop at abstract lines on a map.
Masks drawn from sources as diverse as Romanian folklore and riot police spit masks, combined with props suggesting checkpoints and rafts, invert the hierarchies of border guards and asylum seekers, refugees in boats and Brexit flotillas. The installation leads the viewer through a physical checkpoint to a short narrative film about the bio-political control of a plague village.
Pil and Galia Kollectiv are London-based artists, writers and curators working in collaboration. Their work is multidisciplinary – encompassing film, animation, collage, poster production, sculpture, installation, performance and costume design – and explores the relationship between art and politics, the legacy of modernism, and the avant-garde discourses of the twentieth century.
Solo exhibitions include: The Future Trilogy, Te Tuhi Center for the Arts, New Zealand; Svetlana, S1 Artspace, Sheffield, 2008; and Asparagus: A Horticultural Ballet, The Showroom Gallery, London, 2007. They have also presented live work at the 2nd Herzliya Biennial, the 5th Berlin Biennial and the 5th Montreal Biennial, as well as at Kunsthall Oslo, Arnolfini, Bristol, and the ICA, London.
Pil and Galia Kollectiv are contributing editors at Art Papers, the directors of artist-run project space xero, kline & coma, members of the experimental band, WE, and work as lecturers in Fine Art at the University of Reading.
Related Events
EXHIBITION OPENING
Thu 7 Dec 2017, 6-8pm
With DJ duo GIRL on the decks, join us for an evening of wine and art. Enjoy being amongst the first to see THE IMMIGRANTS. Entry is free and refreshments provided, all are welcome.
---
ART IN THE A.M.
FRI 8 DEC 2017, 9:30-10:30AM
The next in our series of informal morning talks featuring Pil and Galia Kollectiv in conversation with the Naughton Gallery team. We'll be back in Town Square, Botanic Avenue this month. Coffee and conversation are free.
---
LATE NIGHT ART
Thu 1 Feb 2018, 6-8pm
Enjoy The Immigrants after hours as part of Belfast's monthly Late Night Art.
---
THE BOOK CLUB:
RULE OF THE LAND
FRI 2 FEB 2017, 1-2PM
In the new year we'll be discussing Rule of the Land: Walking Ireland's Border by Garrett Carr. It has been met with wide acclaim, and was a BBC Radio 4 Book of the Week. Garrett Carr is a lecturer in Creative Writing at Queen's University Belfast, and will be discussing Rule of the Land with us at this very special Book Club event in the Naughton Gallery.