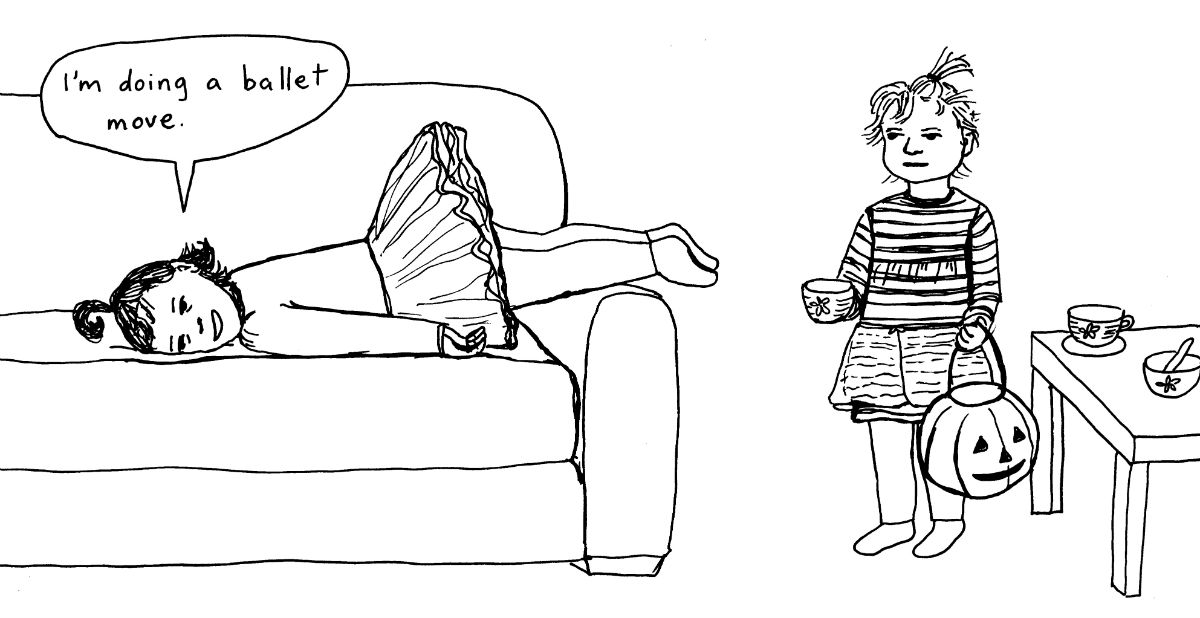 POWDERED MILK
23.06.16 - 07.08.16
Keiler Roberts
Keiler Roberts (b. 1978, Wisconsin) is undoubtedly one of the most exciting and original voices in contemporary comics. Her Ignatz Award-nominated Powdered Milk minicomics – the focus of this exhibition – primarily explore her relationship with her daughter, Xia, and husband, Scott, as well as her interactions with friends and extended family. Despite the laugh-out-loud humour found within Powdered Milk, these small stories also paint a picture of Roberts as a melancholy, anxious mother living with bipolar disorder, rendered in beautifully sketchy linework.
Marking Roberts's first solo show outside of the United States, the works in this exhibition - featuring original Powdered Milk artwork, preliminary sketches, wall drawings and the minicomics themselves - capture the hilarity and innocence of childhood with a similar charm to Charles M. Schulz's Peanuts, Judy Blume's Fudge series, and Beverly Cleary's Ramona. This is combined with a contemporary perspective and sharp wit that puts Roberts's work more in line with the likes of Lena Dunham, Miranda July, and Larry David, all of whom she cites as influences and inspirations.
Roberts's work sits within the tradition of autobiographical comics, a form that first became popular in the underground comix movement, which emerged in the United States in the late 1960s and has since become more widespread. Cartoonists working within this genre range from legendary figures in the industry such as Robert Crumb and Art Spiegelman to contemporary examples including Alison Bechdel, Gabrielle Bell, Noah Van Sciver, and Julia Wertz.
Related Events
EXHIBITION OPENING
THU 23 JUN 2016, 6-8PM
With DJ duo GIRL on the decks, join us for an evening of wine and art. Be amongst the first to see Powdered Milk. This event is free and all are welcome.
---
ART IN THE A.M. WITH KEILER ROBERTS
FRI 24 JUN 2016, 9-10AM
The first in a series of conversations between artists and curators in the early hours of the day at Town Square, 45 Botanic Avenue, hosted by the Naughton Gallery.
---
LATE NIGHT ART
THU 7 JUL 2016, 6-8PM
THU 4 AUG 2016, 6-8PM
Enjoy Powdered Milk after hours as part of Belfast's monthly Late Night Art.
---
ART IN THE A.M. WITH FIONNUALA DORAN
FRI 29 JUL 2016, 9-10AM
A series of conversations between artists and curators in the early hours of the day. This time we're joined by illustrator Fionnuala Doran