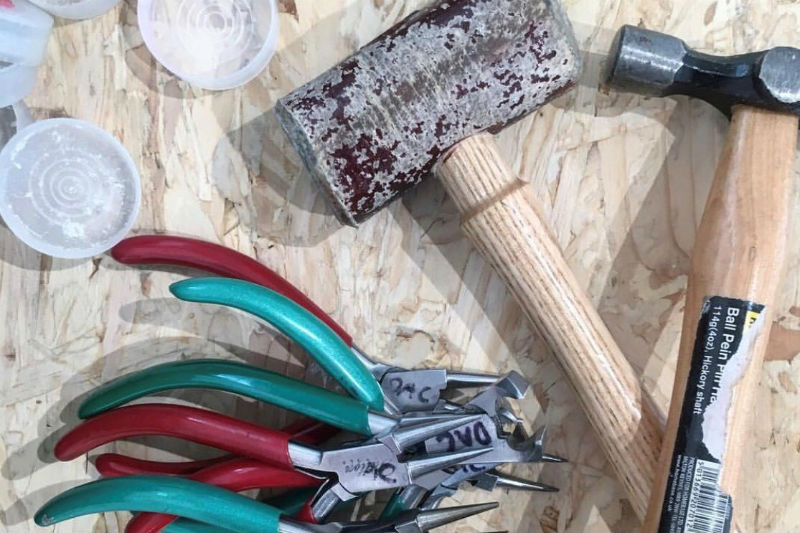 Silversmithing Workshop
with Diane Lyness
The Naughton Gallery hosts full-day workshops in Silversmithing with goldsmith and designer Diane Lyness. Participants are guided with expert tuition to make their own silver jewellery. Previous participants have made earrings, pendants, stacking rings, and bracelets. The full-day workshop and all materials cost £50 per person.

Tea and coffee are provided throughout the day, and gallery staff will be on hand to introduce highlights of the Silver Collection if you want to take a break from your own creations!
Email art@qub.ac.uk to book your place on the next workshop or register your interest. Places are limited and these workshops are popular so get in early to secure your place.
Previous Editions
Sat 26 Aug 2023, 10am-4pm
Silver link bracelet workshop
---
Sat 3 Jun 2023, 10am-4pm
Earrings and pendant workshop
---
Sat 28 Jan 2023, 10am-4pm
Stacking rings workshop
---
Sat 22 Oct 2022, 10am-4pm
Stacking rings workshop
---
Sun 2 Feb 2020, 10am-4pm
Earrings and pendant workshop
---
Sun 3 Nov 2019, 10am-4pm
Stacking rings workshop
---
Sun 25 Aug 2019, 10am-4pm
Silver link bracelet workshop
---
Sun 12 May 2019, 10am-4pm
Earrings and pendant workshop
---
Sun 18 Nov 2018, 10am-4pm
Stacking rings workshop
---
Sun 05 Aug 2018, 10am-4pm
Silver link bracelet workshop
---
Sun 20 May 2018, 10am-4pm
Earrings and pendant workshop
---
Sun 05 Nov 2017, 11am-5pm
Stacking rings workshop