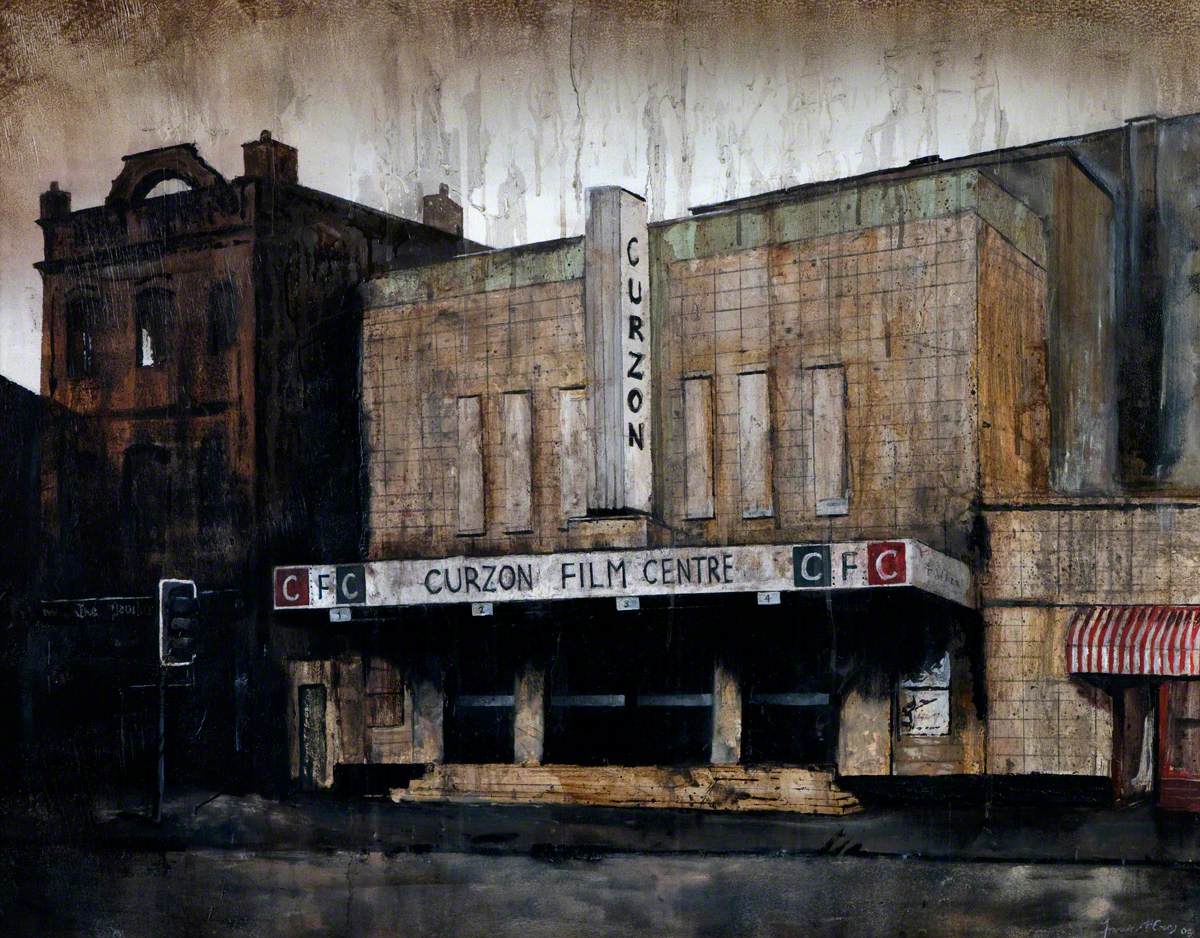 The Curzon Film Theatre, 2008
by Francis McCrory
Francis McCrory (b. 1983) is a Fine Art graduate of Ulster University. He received the Diageo Award in 2006 for Best Emerging Artist, and in 2007 received the prestigious KPMG Award for Best Emerging Artist at the Royal Ulster Academy Exhibition. McCrory's work consists of assemblages that compel the viewer to consider urban decay and neglect in a different light.
This South Belfast scene is the only McCrory piece in the University's collection and was purchased from the 2008 RUA exhibition. It features the Curzon Film Theatre on the Ormeau Road, a much-loved venue which opened in 1936 with Queen of Hearts, starring Gracie Fields. The proceeds from the opening night were donated to the Ulster Hospital for Women and Children.
Designed by architect J. McBride Neill, the Curzon was independently operated throughout its lifetime by the Gaston family. William "Chief" Wilson joined the Curzon team when it opened and remained their loyal projectionist for over 50 years.
Despite frequent air-raid warnings during WWII, and the changing fortunes of the city, the Curzon remained stalwart, closing its doors only once for the death of King George VI in 1952. Finally in 1977 it was forced to close after a major fire caused by incendiaries, reopening only 3 months later with George Lucas's Star Wars.
In the early 80s, the Curzon was transforming into a three screen complex, and became the first cinema in Northern Ireland to offer Dolby Stereo Sound. It was later divided into five screens. The Curzon sadly closed in 1999, largely due to competition from the larger multiplexes. It was demolished in 2003 and the site redeveloped for social housing.
The Queen's Film Theatre is 50!
Info on QFT50 celebrations here.