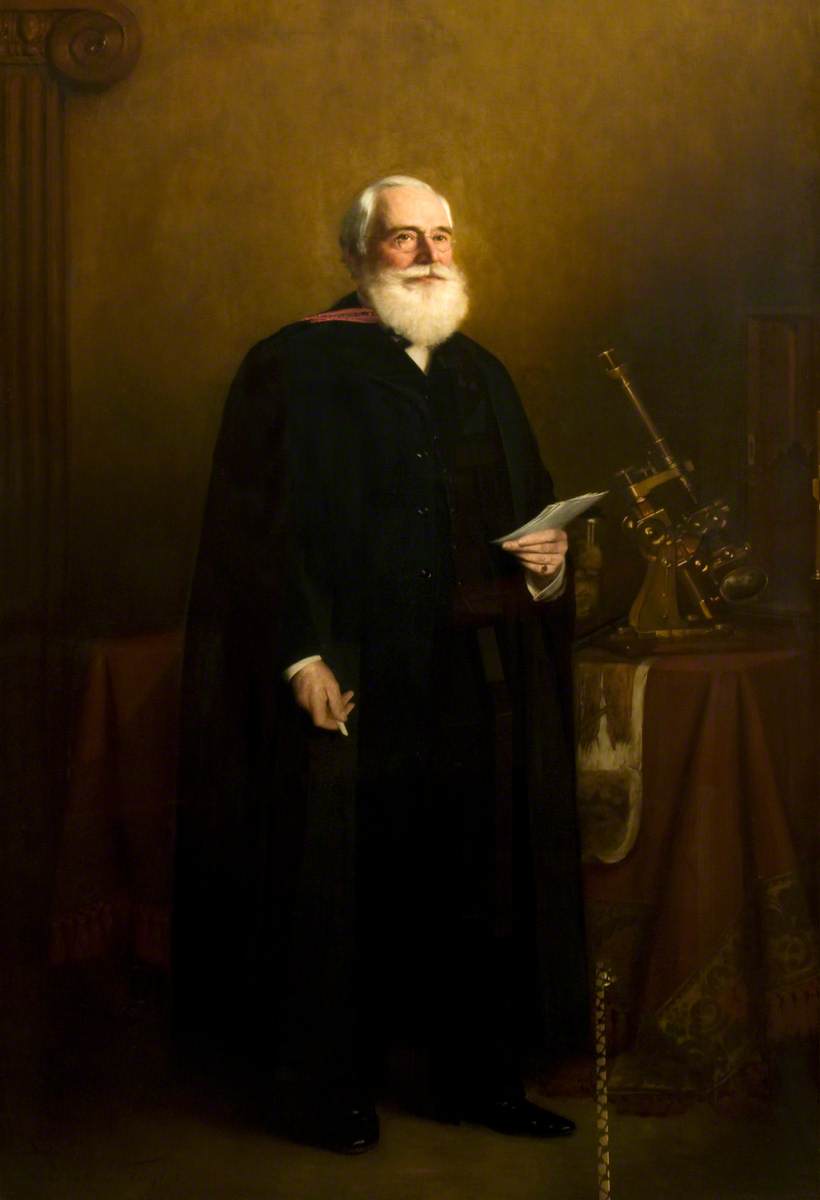 Prof. Peter Redfern (1820-1912)
by Ernest E. Taylor (1863-1907)
Professor Peter Redfern became chair of Anatomy and Physiology at Queen's in 1860, just the second person to hold that position. At that time a Faculty of Medicine didn't technically exist, but a growing number of students were working out of the Anatomical Department at the back of the Royal Academical Institution, some distance from the College. Redfern was able to induce the authorities to construct a new Department and Museum adjacent to Queen's.
He is painted here, chalk in hand with a wonderful microscope behind him, a device which was undergoing huge transformations. Redfern was often consulted on its use in medicine and industry. This work came into the Collection in 1894 as a gift, and may have been commissioned on the occasion of Redfern's retirement in 1893. He died in 1912, at the age of 91.
Ernest E. Taylor was born in Bournemouth but came to Ireland at a young age with his father, a Customs Surveyor. He became a renowned artist, exhibiting in the Royal Hibernian Academy from 1890-1903 and worked from his studio in Garfield Chambers, Royal Avenue.
A number of his works can be seen in public collections, including a fine portrait of fellow artist Alfred Baker (whose portrait of John Renshaw hangs in the Great Hall), and the Proclamation of King Edward VII which hangs in Belfast City Hall. It was commissioned for the opening of City Hall in 1906, and was exhibited unfinished after Taylor's death at the age of just 44.
Professor Hugh Carlisle
(1793/4 – 1860), Unknown