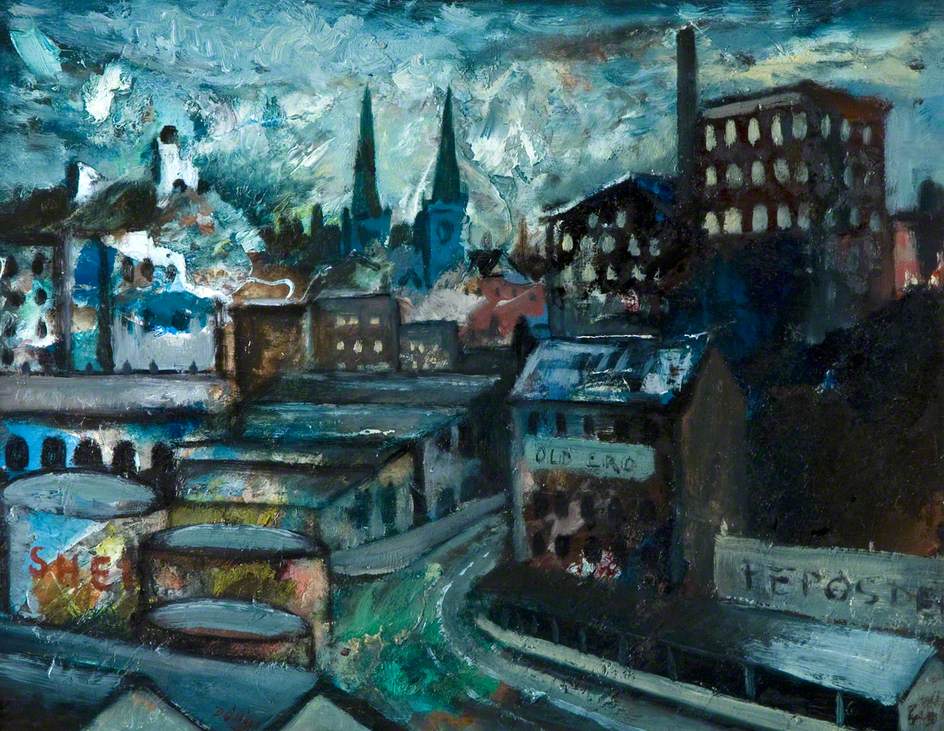 Cityscape (c. 1940s)
by Daniel (Dan) O'Neill (1920-74)
Born in Belfast, O'Neill was an electrician by trade and as a painter, was largely self-taught. He did briefly attend Belfast Art School life classes, before working with and studying under fellow Belfast artist Sidney Smith. He developed a romantic expressionist technique, with imagery often full of pathos, and big themes of love, life and death.
After the 1941 Belfast Blitz he salvaged wood and experimented with carving. In the same year, he held his first exhibition at the Mol Gallery in Belfast, and he was soon picked up by the influential Dublin dealer Victor Waddington. Waddington's support allowed him to give up his trade and concentrate on painting full time for the next number of years. In 1949 he visited Paris and was greatly influenced by the artists he met there. The following years saw him produce some of his most celebrated works.
The 1950s was a hugely productive time for O'Neill. He moved from Belfast to Conlig in Co. Down to a small artist's colony that included George Campbell and Gerard Dillon. Together with Colin Middleton, these artists remained close, and were great proponents of one another's work throughout their lives.
After the closure of the Waddington Gallery in Dublin, O'Neill struggled financially as an artist, as did many of his contemporaries. He lived in London from 1958 to 1971 and his work in this period was increasingly introspective and desolate.
The McClelland Galleries in Belfast in some ways took up where Waddington's Gallery had left off, providing exhibition opportunities and financial support for contemporary artists in a difficult cultural environment. In 1970 George McClelland invited O'Neill to exhibit a one-man show, his first in 18 years. Although a complete sell out, this did not mark the return to the good fortune of his Waddington Gallery years, as the McClelland's businesses were badly affected by the civil unrest in the city at this time. After numerous attacks on their premises and personal threats, the McClelland's moved to Dublin in 1975.
While people were emigrating from the city in their droves during these decades, O'Neill made the return trip to Belfast in 1971, where he died in 1974. His work is represented in many collections besides our own including the Ulster Museum, and the Hugh Lane in Dublin, and he is still exhibited alongside other great Irish artists of the 20th century.
Although undated, we know this work was gifted to the University in 1950 by major collectors of Irish 20th century art, the Haverty Trust in Dublin. It currently hangs in the Vice-Chancellor's residence at Lennoxvale.
O'Neill's contemporaries in the Collection
Sidney Smith
---
Colin Middleton
---
George Campbell
---
William Conor
---