The Naughton Gallery at Queen's
Situated at the heart of Queen's University on the first floor of the Lanyon Building, the Naughton Gallery is one of Belfast's most exciting visual arts spaces, promoting diversity, inclusivity, and artistic excellence. The Gallery presents a rolling programme of original contemporary exhibitions, and has exhibited work by both local and internationally-renowned artists including Adham Faramawy, Marie Jacotey, Aidan Koch, Sarah Maple, Locky Morris, and Tom of Finland. The Naughton Gallery also runs an extensive programme of talks, screenings, and special events.
Named after its generous benefactors, Martin and Carmel Naughton, the Gallery was established in 2001 as a means of showcasing the University's permanent Collection which comprises gifts, bequests, and purchases since the foundation of Queen's College in 1845. The Gallery programme later developed to feature exhibitions of works on loan, both contemporary and historical, although the permanent Collection remains on display throughout various University sites. A range of media is represented in the Collection – paintings, prints, works on paper, sculpture, furniture, metalwork, and silver – and perhaps most notable is the impressive hang of over fifty portraits in the Lanyon Building's Great Hall.
With free admission and open six days per week, the Naughton Gallery welcomes visitors from around the world, and has been recognised as one of the leading university galleries in the UK and Ireland, winning the Times Higher Education Award for Excellence and Innovation in the Arts in 2008.
STATEMENT OF PURPOSE
To be an aesthetic, academic, and creative force which enhances the Queen's experience for staff, students, and the wider community.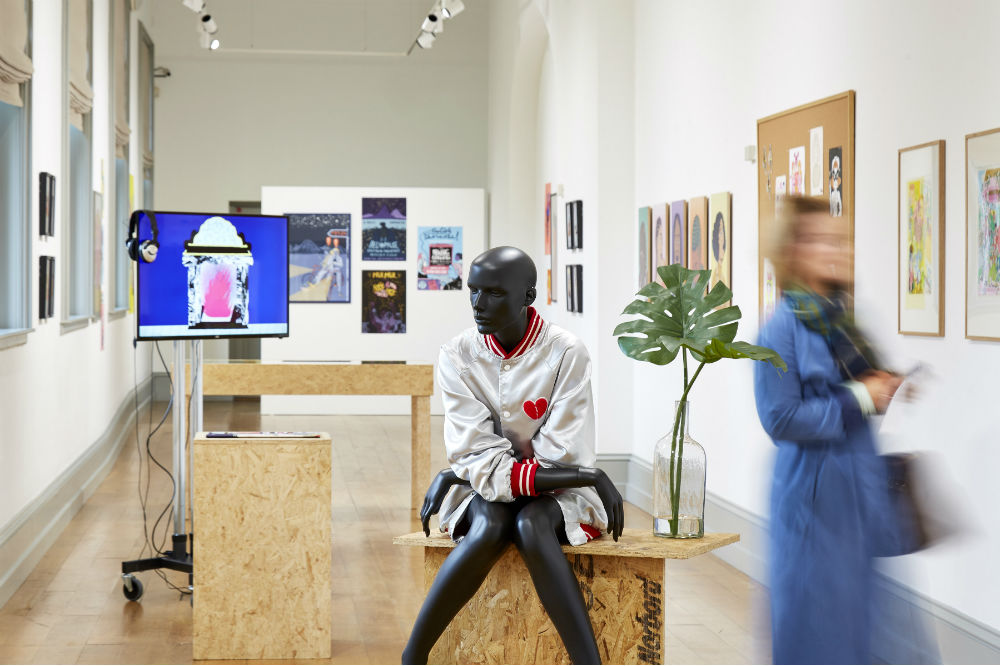 Gallery Team
Ben Crothers (he/him)
Curator & Collections Manager
b.crothers@qub.ac.uk
Hannah Brogan (she/her)
Gallery and Collections Assistant
h.brogan@qub.ac.uk
---
Gallery Assistants
Jack Cole
Emma McAlister
Sophie Riddell
Milena Williamson
Ashleigh Wilson
Rachael Stockdale
Members of the Arts Advisory Group
Ms J Clague (Chair)
Ms C Baxter
Dr S Lyle
Prof J Morison
Mr P Spratt
Mr D Toner
Ms M Clarke
Ms C Young
Students' Union Representative
---
The Naughton Gallery is committed to the creation of a cleaner, greener University through the Green Impact initiative.
---
Access Information
The Naughton Gallery is located on the first floor of the Lanyon Building. Wheelchair access is available via lift from the Welcome Centre. Please phone ahead regarding any access requirements.
THE PHLOX INITIATIVE
The Naughton Gallery is making a commitment to the active promotion of diversity and inclusion in all that we do across lines of gender, race, religion, politics, age, sexuality, and beyond.
Inspired by the title of our 2017 illustration exhibition, our Phlox Initiative seeks to tackle tokenism and exclusion, striving for significant and meaningful change. We endeavour to make our exhibitions, commissions, events, and acquisitions Phlox certified, challenging ourselves to amplify fresh voices and champion vital perspectives.
Between June 2016 and September 2020, the Gallery has exhibited work by over 120 visual artists.
- 51% of the exhibited artists have been male.
- 45% of the exhibited artists have been female.
- 4% of the exhibited artists have been non-binary.
- 55% of the Gallery's solo exhibitions have been presented by male artists.
- 45% of the Gallery's solo exhibitions have been presented by female artists.
- 26% of the exhibited artists have been from the LGBTQ+ community.
- 29% of the exhibited artists have been People of Colour.
- 73% of the exhibited artists have been based internationally.
- 83% of the exhibited artists have never shown work in Northern Ireland.
- Commissions and acquisitions for the University's permanent Collection have been by 50% male artists and 50% female artists.
Throughout our entire programme we aim to be as diverse and inclusive as possible in terms of the artists with whom we work and the art we exhibit. Whilst we feel we have made significant achievements both prior to and since our programme relaunch in June 2016, we recognise that there is more to be done. Through the Phlox Initiative we will promote a wide range of voices, both local and international, in an effort to best reflect the diversity of the world in which we live as we strive for greater equality and inclusivity across our full portfolio.